Trouble makers
Call Number: F BAR
ISBN: 9780143785484
Publication Date: 2017
Finding Grace
ISBN: 9780440238331
Publication Date: 2006-04-11
RACHEL HAS JUST graduated from high school and thinks she knows everything. Well, maybe not quite everything. Then she meets the mysterious Mr. Preston, who offers her a live-in job looking after Grace—a brain injured woman with a lovely house, grasping sisters, feral neighbors, and a box full of unfinished business. As Rachel tries to cope with the demands of her employment and the start of college, she's also determined to fit together the pieces that were Grace's former life. The more she finds out about the woman in her care, the more Rachel finds herself.
Walking Naked
ISBN: 9780385731157
Publication Date: 2004-03-09
There are those who are popular.
There are those who are outcasts.
And there are those who must choose between the two.

Megan Tuw has always been popular. As a leader of her high school's most cliquish group, she's among the anointed girls who think nothing of ridiculing those who don't fit in. That includes Perdita Wiguiggan—a classmate Megan and her friends openly refer to as the Freak. But Megan doesn't know the first thing about Perdita, since she would never dream of talking to her. Only when the two girls are thrown together in detention does Megan begin to see Perdita as more than someone with an odd last name, as more than the school outcast. And slowly, Megan finds herself drawn into an almost-friendship.

Then Megan faces a choice: Perdita or the group?
Lock & Key
ISBN: 9780141923833
Publication Date: 2009-02-04
Ruby Cooper likes to expect the worst. That way, she's never disappointed. Abandoned by her mother and forced to leave the house she calls home, Ruby is facing too many changes. Her lonely world has been transformed into a life of luxury by her long lost sister, but all Ruby wants to do is leave – she can make it on her own. Even Nate, the gorgeous boy-next-door can't seem to change her mind. Will Ruby realize first impressions don't always count? And that sometimes, people can surprise you, so it's ok to let the closest ones in
Black Juice
ISBN: 9780060743925
Publication Date: 2006-02-21
In this extraordinary short story collection, human frailty is put to the test by the relentless forces of dark and light, man and beast. Each tale offers glimpses into familiar, shadowy worlds that push the boundaries of the spirit and leave the mind haunted with the knowledge that black juice runs through us all.
Jellicoe Road
ISBN: 9780061431852
Publication Date: 2010-03-09
I'm dreaming of the boy in the tree. I tell him stories. About the Jellicoe School and the Townies and the Cadets from a school in Sydney. I tell him about the war between us for territory. And I tell him about Hannah, who lives in the unfinished house by the river. Hannah, who is too young to be hiding away from the world. Hannah, who found me on the Jellicoe Road six years ago.

Taylor is leader of the boarders at the Jellicoe School. She has to keep the upper hand in the territory wars and deal with Jonah Griggs - the enigmatic leader of the cadets, and someone she thought she would never see again.

And now Hannah, the person Taylor had come to rely on, has disappeared. Taylor's only clue is a manuscript about five kids who lived in Jellicoe eighteen years ago. She needs to find out more, but this means confronting her own story, making sense of her strange, recurring dream, and finding her mother - who abandoned her on the Jellicoe Road.

The moving, joyous and brilliantly compelling new novel from the best-selling, multi-award-winning author of Looking for Alibrandi and Saving Francesca.
Twice upon a time
Call Number: F FOR
Publication Date: 2014
Ludo introduces Cinda to the heady world of the super-rich, taking her to parties on yachts and villas all over Europe. Sparks start to fly as Ludo and Cinda spend more and more time together, and even cautious Cinda wonders if there might be something real between them. Then Gus, Ludo's twin brother and heir to the Sardinian throne, arrives to ruin everyone's fun. Gus is obsessed with duty, and having a commoner like Cinda around just isn't part of his plan. But when fate throws Cinda and Gus together, he's astounded to discover that he and Cinda get along well. So well, in fact, that he might be prepared to throw away everything to be with her...
People of the book
Call Number: F BRO
Publication Date: 2008
When Hanna Heath gets a call in the middle of the night in her Sydney home about a precious medieval manuscript which has been recovered from the smouldering ruins of war-torn Sarajevo, she knows she is on the brink of the experience of a lifetime. A renowned book conservator, she must now make her way to Bosnia to start work on restoring The Sarajevo Haggadah, a Jewish prayer book - to discover its secrets and piece together the story of its miraculous survival. But the trip will also set in motion a series of events that threaten to rock Hanna's orderly life, including her encounter with Ozren Karamen, the young librarian who risked his life to save the book. As meticulously researched as all of Brooks' previous work, PEOPLE OF THE BOOK is a gripping and moving novel about war, art, love and survival.
Of Mice and Men
ISBN: 0140177396
Publication Date: 1993-09-01
They are an unlikely pair: George is "small and quick and dark of face"; Lennie, a man of tremendous size, has the mind of a young child. Yet they have formed a "family," clinging together in the face of lonelinss and alienation.
Laborers in California's dusty vegetable fields, they hustle work when they can, living a hand-to-mouth existence. For George and Lennie have a plan: to own an acre of land and a shack they can call their own. When they land jobs on a ranch in the Salinas Valley, the fulfillment of their dream seems to be within their grasp. But even George cannot guard Lennie from the provocations of a flirtatious woman, nor predict the consequences of Lennie's unswerving obedience to the things George taught him.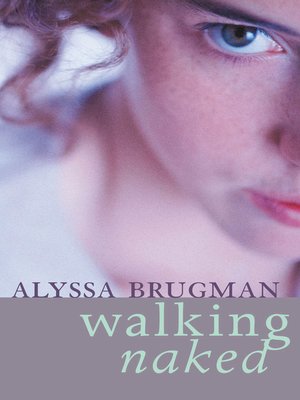 Walking naked
Call Number: F BRU
Publication Date: 2002
A sharply-observed, unflinching story for teenagers about the ins and outs of friendship among girls; a story about individuals and peer groups, about power and freedom, about the painful getting of wisdom and self-knowledge.

'Every school has one. They are ugly or fat. They have scars or acne or birthmarks. Or maybe it's just something about them that doesn't quite fit with our video-hits view of how teenagers should be?
Just One Year
Call Number: SEN F FOR
ISBN: 9780142422960
Publication Date: 2014-09-30
After spending an amazing day and night with a nameless girl in Paris, Willem embarks on his own transformative journey to find her once again.